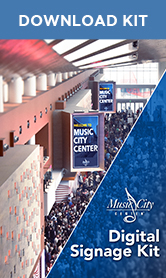 Music City Center has an extensive digital signage system with more than 135 screens varying in size and function. Each display is strategically located throughout the facility to provide maximum visibility. The versatility of the available digital marketing tools can meet the needs of any event.
Find the digital signage that works for you!
Explore the Digital Signage Kit to see available displays, locations, and pricing.

Click on the digital signage icon to download kit (PDF). 

Watch the highlight reel to see the displays in action.
VIDEO: Digital Signage Highlight Reel
For more information, contact the Music City Center Digital Media Coordinator. 
Billy Chambers, Digital Media Coordinator
Phone (615) 401-1478
Fax (615) 401-1484
Billy.Chambers@nashvillemcc.com
mccadvertising@nashvillemcc.com