You are here
Sustainability
Music City Center is committed to environmental sustainability. As an award-winning, LEED Gold Certified facility, we integrate sustainability practices in day-to-day operations.
We prioritize our environmental commitment through the following initiatives.
Green Roof
Energy Conservation
Water Management
Waste Reduction

Join us in reducing our environmental impact. Become a green partner.
Get an up-close look at our sustainability initiatives and features. Schedule a facility tour.*
*Due to COVID-19, all MCC tours are suspended until further notice. 
CONTACT:
John Puckett, Sustainability Coordinator
Phone (615) 401-1464
Fax (615) 401-1482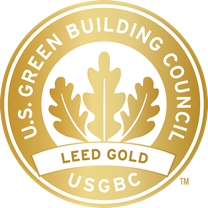 LEED Gold Certification signifies Music City Center reduces stress on the environment by being more energy efficient. MORE INFO: here. VIEW SCORECARD: USGBC's website.
As a Get Food Smart TN member, MCC acts as a resource to others interested in food waste reduction, recovery, and diversion.
As a Pick Tennessee Products partner, MCC offers food and beverages made with regionally and locally farmed products.
Resources

Become a Green Partner

Greening Your Event