You are here
MUSIC CITY CENTER OFF TO STRONG START IN FY2017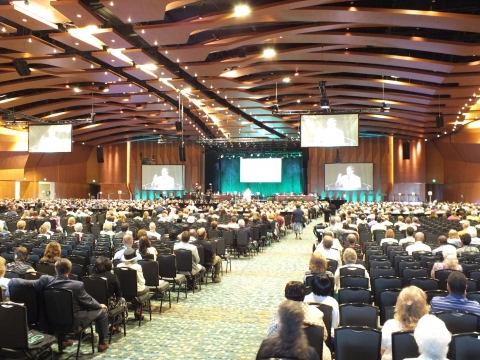 MUSIC CITY CENTER OFF TO STRONG START IN FY2017
FOR IMMEDIATE RELEASE
September 1, 2016
NASHVILLE, Tenn. – The Convention Center Authority announced this morning that the Music City Center has generated $44 million in direct economic impact for the city in the first month of fiscal year 2017.
The Music City Center hosted nine events with 69,462 attendees in July, generating 42,903 room nights for a total of $44.3 million in economic impact. Tax collections continue to outperform expectations and the Music City Center portion of tax collections was up 9.1 percent year over year for fiscal year 2016. The Convention Center Authority also announced that the Music City Center achieved 27.95 percent DBE participation in the fourth quarter of fiscal year 2016 for a fiscal year total of 35.22 percent participation.
"This summer has been nonstop for us. In June and July alone, we had over 175,000 people come through the building and almost 30 site visits from potential customers," said Charles Starks, President/CEO of the Music City Center. "We continue to set aggressive sales goals and our customer base continues to grow without any signs of slowing. The current demand for Nashville is truly beyond what any of us could have imagined."
###
About the Music City Center
The Music City Center, Nashville's convention center, features a 353,143 square foot exhibit hall, the 57,500 square foot Karl F. Dean Grand Ballroom, and an 18,000 square foot Davidson Ballroom. The building includes an art collection featuring local and regional artists, a covered three-level parking garage with 1,800 spaces, and is LEED Gold certified. The Nashville Songwriter's Hall of Fame is also located inside the Music City Center at the corner of 6th Avenue and Demonbreun.