You are here
Music City Center releases annual sustainability report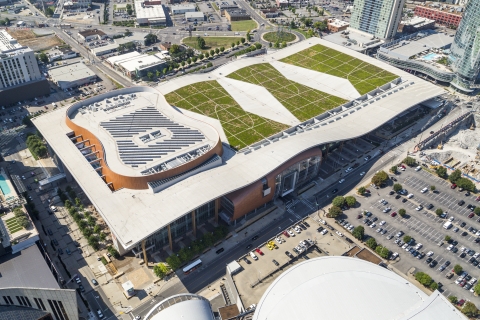 NASHVILLE, Tenn. – The Music City Center composted over 130,000 pounds of material in fiscal year 2019, up from 66,000 pounds the previous year. The process of composting prevents the formation of greenhouse gas emissions due to the decomposition of organic material in a landfill.
"We prioritize sustainability through systematic approaches in our daily operations," said Charles Starks, President/CEO of Music City Center. "We continue to explore innovative solutions for waste diversion and support environmental efforts in our community." 
Additionally, over 420,000 pounds of mixed materials were recycled and 14,000 pounds of leftover miscellaneous items were donated to various nonprofit organizations. The amount of rainwater collected and reused totaled 4,000,000 gallons, accounting for 51% of the building's water usage.
In addition to these waste diversion programs, Music City Center donated 40,000 pounds of food to the Nashville Rescue Mission. The building's 845 solar panels produced 248,681 kWh of clean energy onsite.
Click here to view the full report.