You are here
MUSIC CITY CENTER TO HOST SPORT CLIPS "SHAVE THE DAY" EVENT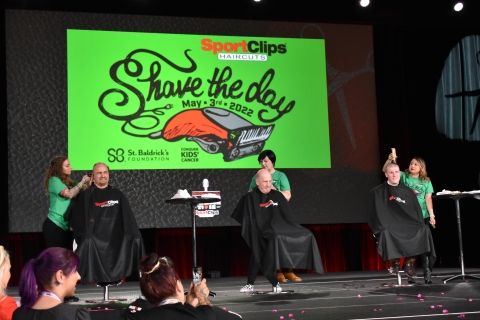 NASHVILLE, Tenn. – Music City Center will host Sport Clips Haircuts "Shave the Day" event on Tuesday, May 3.
"Shave the Day" is a head-shaving fundraiser for St. Baldrick's Foundation, the largest private funder of childhood cancer research grants. During the event, Sport Clips President and CEO Edward Logan and other volunteers will shave their heads in front of a crowd of roughly 3,000.
The Fagan family from Nashville, Tennessee, will take part in the event, with 3-year-old James Fagan making the first "trim" of the day. James is a St. Baldrick's Honored Kid who is currently fighting an extremely rare form of brain cancer.
The 2022 event is part of the Sport Clips Haircuts National Huddle, an annual meeting for the franchise held this year at Music City Center May 1-3.
     WHO:         Music City Center
                   Sport Clips Haircuts
    WHAT:        "Shave the Day" Event
    WHEN:       Tuesday, May 3, 2022
                   10:15 a.m.*
    WHERE:     Music City Center
                   Exhibit Hall D
MEDIA:      Media should arrive by 9:45 a.m. for set up and testing of equipment.
                  News vehicles may be parked in the valet area. From Demonbreun Street, pull into the P3 garage entry (across from 7th Avenue), and make an immediate left into the valet area.
                  Parking is NOT permitted along Demonbreun Street in the cutouts designated for Fresh Pick Market customers only. Violators will be towed.
VIDEO:      https://youtu.be/fVyhhnyzpjY
About the Music City Center
Located in the heart of downtown Nashville, Music City Center (MCC) is a 2.1 million square foot convention center with more than 353,000 square feet of exhibit hall space, two ballrooms, 60 meeting rooms, and a covered parking garage with 1,800 spaces. The mission of MCC is to create significant economic benefit for the greater Nashville area, while focusing on community inclusion, sustainability, and exceptional customer service, through conventions, trade shows, and community events.
###