You are here
MUSIC CITY CENTER TO HOST PROPOSAL 101 WORKSHOP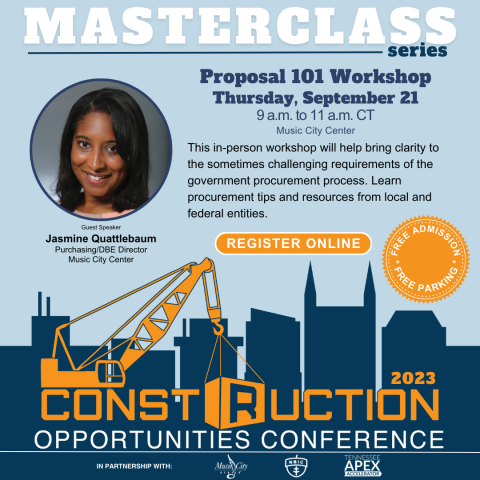 NASHVILLE, Tenn. – Music City Center will host its annual Proposal 101 Workshop to benefit small and diverse business owners on Thursday, September 21, 2023.
As part of the facility's Diversity Business Enterprise Program, Proposal 101 is a free, in-person workshop designed to bring clarity to the often-challenging requirements of the government procurement process. Participants will learn tips and resources from local and federal entities.
This is the fifth year for the workshop. This year, it is one of a series of masterclasses being offered in preparation of the Construction Opportunities Conference. The conference, which also targets small and diverse business owners, will be held in October at the convention center in partnership with Nashville Business Incubation Center and Tennessee APEX Accelerator (formerly Procurement Technical Assistance Center).
    WHO:          Music City Center
    WHAT:         Proposal 101 Workshop
    WHEN:        Thursday, September 21, 2023
                    9:00 a.m. – 11:00 a.m. CT
    WHERE:      Music City Center
                    201 Rep. John Lewis Way S.
        Nashville, TN 37203
COST:         FREE (includes parking and workshop)
To register for the workshop or to learn more about the Construction Opportunities Conference, visit the conference website at https://nbiconline.com/construction/. (Conference registration is not required to attend the Proposal 101 Workshop.)
Deadline to register online for the workshop is Tuesday, September 19, 2023.
About Music City Center
Located in the heart of downtown Nashville, Music City Center is a 2.1 million square foot convention center with more than 353,000 square feet of exhibit hall space, two ballrooms, 55 meeting rooms, and a covered parking garage with 1,800 spaces. The mission of MCC is to create significant economic benefit for the greater Nashville area, while focusing on community inclusion, sustainability, and exceptional customer service, through conventions, trade shows, and community events.
###