You are here
CONVENTION CENTER AUTHORITY ANNOUNCES NEW BOARD MEMBERS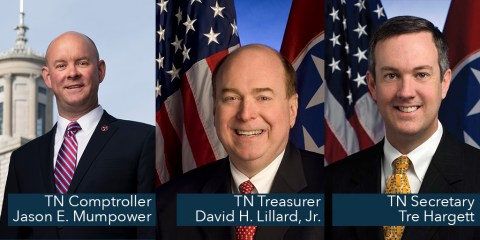 NASHVILLE, Tenn. – The Convention Center Authority announces three new board members. State Comptroller of the Treasury Jason E. Mumpower, State Treasurer David H. Lillard, Jr., and Secretary of State Tre Hargett were appointed by the Tennessee General Assembly.
Mumpower has served as State Comptroller since 2021. Previously, he represented Sullivan and Johnson Counties in the Tennessee House of Representatives for 14 years. He is a Rule 31 Listed General Civil Mediator.
Lillard has served as State Treasurer since 2009. He is an attorney with extensive professional experience in public and private corporate finance transactions, municipal finance, governmental budgeting, and related fields.
Hargett has served as Secretary of State since 2009. Previously, he represented Shelby County in the Tennessee House of Representatives for 10 years. He also served as chairman of the Tennessee Regulatory Authority.
"The addition of state representation to our existing board is a great opportunity," said Music City Center President and Chief Executive Officer Charles Starks. "We look forward to the expertise and perspective each of these respected individuals can provide to ensure the facility's continued success in the future."
The Convention Center Authority was created to oversee the development and operation of Music City Center, as well as any investments or projects connected to the convention center. The existing Authority consists of nine members, appointed by the mayor of the Metropolitan Government of Nashville & Davidson County to serve a four-year term.
Legislation passed by the General Assembly and signed into law by Governor Bill Lee requires Comptroller Mumford, Treasurer Lillard, and Secretary Hargett, or their designees, to serve as non-voting ex officio board members. The trio will join the board immediately.
About the Music City Center
Located in the heart of downtown Nashville, Music City Center (MCC) is a 2.1 million square foot convention center with more than 353,000 square feet of exhibit hall space, two ballrooms, 55 meeting rooms, and a covered parking garage with 1,800 spaces. The mission of MCC is to create significant economic benefit for the greater Nashville area, while focusing on community inclusion, sustainability, and exceptional customer service, through conventions, trade shows, and community events.
###